Business
20 Most Creative Things You Can Put in Custom Vinyl Record
Custom vinyl records have been making a comeback for a decade now, every big and small artist has been releasing their album on vinyl, and it seems like it won't be extinct. 20 Most Creative Things You Can Put in Custom Vinyl Record.
People have come up with various & unusual things to add to their vinyl, such as gold dust vinyl, vinyl with blood, splatter vinyl, & ash vinyl and much more.
Vinyl lovers & artists love to have personalized vinyl records rather than having the classic black. These types of personalized vinyl records make it more fun to collect them.
Different things you can put in a custom vinyl record
Let's look at the different types of custom vinyl pressing things; we mean the real stuff. Custom vinyl pressing plants have produced stunning records per the client's requirements.
Glitters
Glitters are the most beautiful things to put on custom vinyl records. They look beautiful on clear vinyl records or coloured vinyl records.
One of the products of Dad's EP "Pretty Good" in 2013 produced their vinyl with rainbow glitters sprinkled for 100 copies.
Blood
You can put blood on custom vinyl records, but people have to visit the pressing plant because they have to give their blood or other people's.
For the album "Say Yes To Love", they had Meredith Graves's blood pressed into the wax.
Strings
Yes, you read it right. You can place twine, thread or yarn onto custom vinyl records. And you can use multicolour or mono colours to make it attractive by custom vinyl pressing.
"Mission by Liars" by album "Mess" embedded coloured yarn strings on clear vinyl records that stand out from other artists who were releasing the album on vinyl.
Asteroid Dust
This is a cool vinyl to have with other vinyl collections. The cosmos edition of the album is coloured yellow, green & orange with sprinkled fragments of the asteroid that crashed on earth in the 16th century.
The album Emperor Yes' "An Island Called Earth" pressed a hundred copies of these custom vinyl records.
Liquid
Liquid is the common thing to put inside a custom vinyl record. Most of the time, you have seen a combination of green and yellow coloured custom vinyl pressing.
The album of James Cameron's sci-fi classic called "Aliens" was coloured green liquid to represent "Xenomorph Blood".
Ice
Another fun material for vinyl records is ice. You can create your custom vinyl records australia just like the album Shout Out Louds released their "Blue Ice" single.
For this ice vinyl album, the people will get instructions to follow, a bottle of water & a mould. It's a mesmerizing experience for fans to listen to music on ice vinyl.
Etched Images
Yes, you can print etched images on your custom vinyl records. Vinyl pressing produces custom vinyl records in Australia. You get to see the animation while playing a record by printing etched images, and it is a feast for the naked eyes.
Sculpture made a 7″ vinyl record etched with images for "Plastic Infinite" composed of two tracks.
Leaves
You can have custom vinyl pressing your favourite leaves on vinyl. If your song has a nature theme, you can print custom vinyl sleeves, which would perfectly fit your concept.
The Barren Harvest's "Subtle Cruelties" album had autumn leaves pressed into clear vinyl records. And you can choose coloured leaves, but it would be best if it is thin leaves.
Gold Dust
Gold dust looks great against a black opaque vinyl record. Put gold dust inside dark vinyl to get a dusty effect on its surface.
Jenny Owen has pressed gold dust on a 12-inch vinyl record on Young's album "Echo Mountain".
Chocolate
Yes, you read right, chocolate is not just for eating; chocolate made vinyl can also use for listening to music.
You might think it's impossible, but a French DJ Breakbot had custom vinyl pressing for a single "By Your Side" on a chocolate vinyl.
Scent
Ghostbusters 30th-anniversary edition custom vinyl records smelled like marshmallows, just like the "Marshmallow Man" movie.
Ofcourse, you can make personalized vinyl records & add scents on vinyl records, custom vinyl sleeves, packaging, artwork and much more.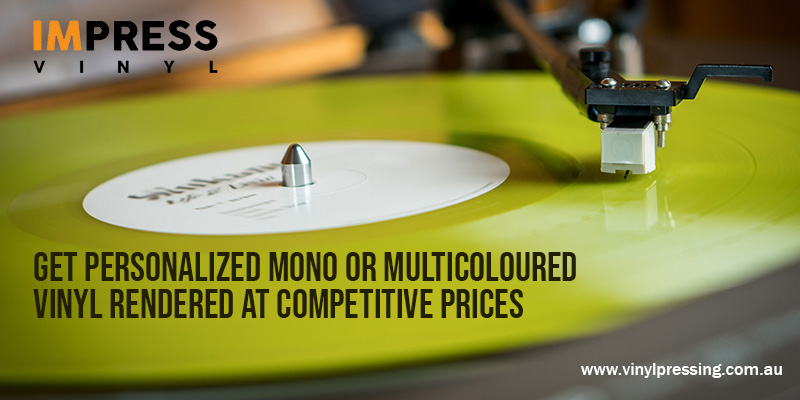 Hologram
Many vinyl lover artists have carved holographic images on custom vinyl records using micro-reflectors.
Jack White's "Lazaretto" in 2014 and John Willam's Star Wars: The Force Awakens, TIE Fighters & Millennium Falcon etched holograms into its surface.
Sand
After ashes, pressing plants can also create vinyl records using sand, but with the weight of sand, vinyl moves a little slower than liquid when spun on a player.
The famous artists Brother O' Brother & Vesperia pressed sand on their vinyl records.
Ashes of the Holy Bible
Yes, you can press ashes into custom vinyl records. The band Hellmouth of Detroit and their album "Gravestone Skylines" was the only band with ashes on vinyl.
The German Holy Bible from the late 1800s was burned by the band. Pressing plants used bright coloured vinyl such as orange coloured clear vinyl records to put ashes of the holy bible.
Beeswax
After ice & chocolate, pressing plants can press beeswax to make a playable vinyl record. To celebrate the return of Honey Disco, Osmose pressed a 7-inch vinyl record with natural beeswax for the single track "Do Anything".
The custom vinyl records produced are see-through and retain a honey smell when played on a record player.
X-ray
What will you do with discarded X-rays? You can etch the grooves of a vinyl record. The Soviet Union used discarded x-rays for listening to music by cutting them into a circle & burning a hole at the centre.
Vinyl pressing creates custom vinyl records in Australia with discarded x-rays, and it is a good replacement for vinyl. But it has its disadvantages.
Gunpowder & Razor Blade
As we have seen these unique & creative things pressed on vinyl records. We can conclude that a true rock musician presses gunpowder & razor blade.
The title of this album is "In Ya Neck V2", and the owner of these custom vinyl records is the duo Ghost Wolves.
Flower Petals
Impress Vinyl has produced some eye-catching custom vinyl records in Australia. You read about how pressing plants can press leaves on vinyl. Following the same procedure, we can create flower petals vinyl records.
Hair & Pee
Yes, you heard right, this is the most unusual and disgusting thing to put inside a vinyl. But people make their own custom records with hair & real pee.
The album title "Getting Your Hair Wet With Pee" made this custom vinyl record.
Laser Etched Designs
If you did not like the hologram etched into your records. You can print these etched laser designs on the non-playable side of a custom vinyl record.
Split Enz's "True Colours" was released in 1980, which spun on a turntable that shines like a CD/DVD with eye-catching geometric shapes.
With this, we end 20 various unusual and creative vinyl records. Are you looking for a pressing plant that customizes the record as per your requirements? Try Vinyl Pressing for high-quality records, custom vinyl sleeves, artwork templates, packaging, and more. We deliver all around Australia then onto the world.
Source: 20 Most Creative Things You Can Put in Custom Vinyl Record