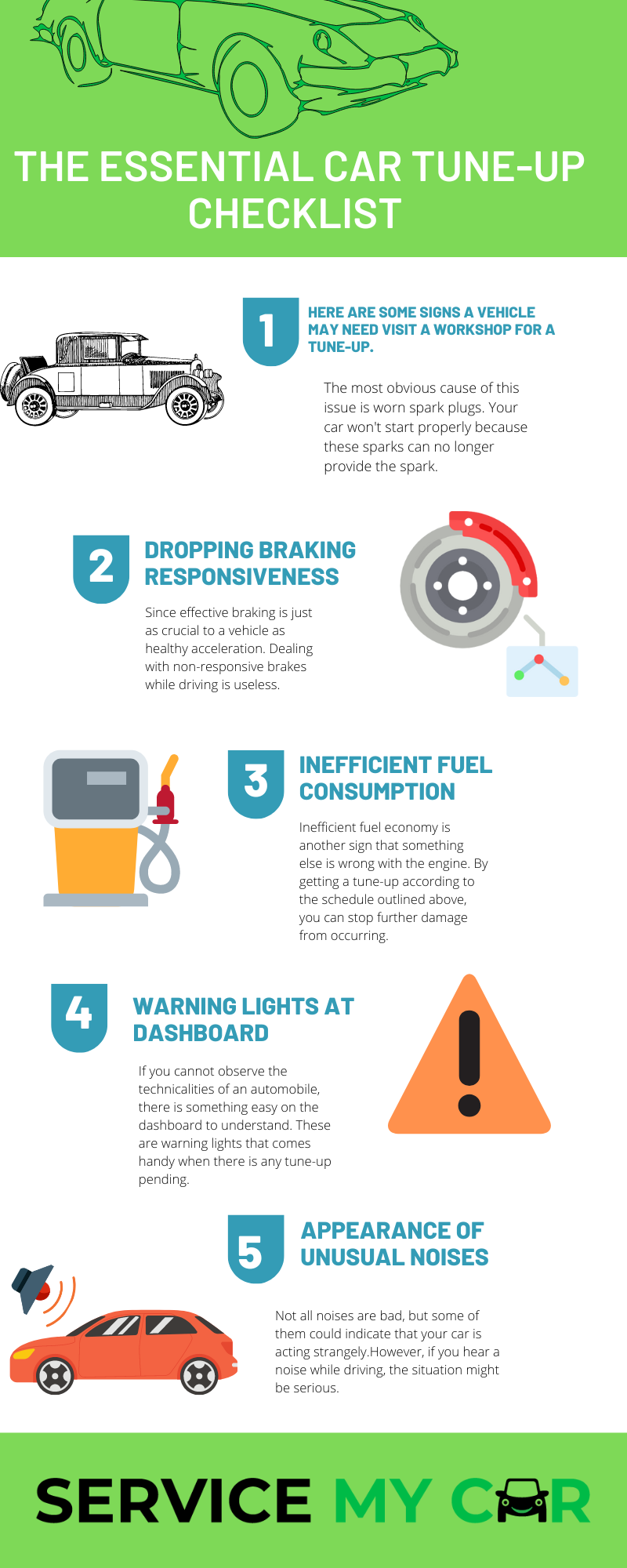 A vehicle's needs vary, as each one of them equips with distinctive technology. However, a car needs to be serviced once a year, or after travelling 10,000 or 12,000 KM without the required tune-up.
The distinction between a tune-up and a car service is hazy, though. But if you put the consideration of the vehicle in perspective, you can understand it. A tune-up, to put it simply, entails some additional and crucial services for a vehicle.
However, a tune-up works as immunity booster to a vehicle when you expect a vehicle performing at its peak for a long time.
Whether your car is an older or newer model, frequent tune-ups can help keep it running in peak condition! 
Here are some signs a vehicle may need visit a workshop for a tune-up.
If the engine starts to hesitatesafter turning the keys.
An engine that hesitates is something, neither you nor your car wants to experience, but it could indicate a serious problem under the hood.
The most obvious cause of this issue is worn spark plugs. Your car won't start properly because these sparks can no longer provide the spark.
Additionally, there might be a battery problem because a weak battery cannot produce the ignition's necessary spark. You can speak with a mechanic to determine the true source of this issue.
However, if you are proactive about your tune-up schedule, you can avoid these problems. A mere spark plugs replacement does not cost too much money or time. Regular tune-ups are crucial because they can detect these problems early on, saving you from having to make expensive repairs.
Avail a proper tune-up of your vehicle by a professional at Service My Car.
Dropping braking responsiveness
Since effective braking is just as crucial to a vehicle as healthy acceleration. Dealing with non-responsive brakes while driving is useless.
They ought to be nimble, practical, and of course efficient when driving. Given that all brakes gradually deteriorate on own, you might not know when you will need that extra braking power.
A vehicle's brake system needs to be tuned up critically. The ability of brake pads to provide you with reliable braking diminishes over time. If your car spends the majority of its time in traffic, you might experience premature brake irresponsibility.
Therefore, you should get a tune-up before putting both yourself and your car in danger. 
Inefficient Fuel consumption
Nevertheless, a vehicle's fuel usage changes over the course of its life.The performance of your engine, the efficiency of your emissions system, and most importantly your driving habits are all important considerations when calculating the fuel economy of your car.
However, if specifics are not displayed on your car's dashboard, it is more difficult to detect even small changes in fuel consumption. Nowadays, the majority of cars come equipped with an MPG monitor that shows the average fuel efficiency of a car.
Furthermore, incorrect car wheel alignment can significantly reduce your car's fuel efficiency.
Inefficient fuel economy is another sign that something else is wrong with the engine. By getting a tune-up according to the schedule outlined above, you can stop further damage from occurring.
Warning Lights at dashboard
If you cannot observe the technicalities of an automobile, there is something easy on the dashboard to understand. These are warning lights that comes handy when there is any tune-up pending. 
If any warning light turns on, there is something wrong or a maintenance pending under the hood. 
However, most people might not aware of intimation of warning lights and often have to pay to big bills for the substantial damages that can be easilyavoided.
Just head towards Service My Car for an expert's opinion when you notice a warning light at dashboard and cannot conclude. You won't like to pay for a car engine repair when you can mitigate the damage with a cheap fix.
Appearance of unusual noises
Not all noises are bad, but some of them could indicate that your car is acting strangely.However, if you hear a noise while driving, the situation might be serious.
While your car may make grinding noises when there is a lack of fluid, the noises like pounding appear when there is a loose part.
To keep everything moving and functioning properly, there are many moving parts. If your car isn't serviced, any of these broken or loose parts may result in noises, which will grow louder and worse.
Therefore, it is in your hand to keep things in control by visiting a reliable service centre for a timely tune-up.
Since a car parts degrades over-time, they need to be replaced on time. If you do act smartly, a car may force you to take an action sooner or later and spending more money than you anticipate.
Bring your vehicle to Service My Car for a tune-up as soon as possible. Moreover, opt for a car scanning and diagnostics to figure out all existing and potential problems with your vehicle.
If you need any type of car service or repair, service my car provides you free pickup and delivery plus full car servicing at the nearest car workshop dubai center.
You can take an appointment for a car service or order a car repairquote at our websiteor app anytime.