Home Improvement
8 Tips for Transforming Your Boring Kitchen Into a Nordic Haven
Everyone loves Scandinavian design! Who doesn't, right? It has won over many hearts and homes across the world. It's a popular interior design that combines efficient style with an all-needed feeling of peace and calmness. 
This is why Nordic kitchens are perfect for busy cooks who want to keep a lovely yet practical space amidst the rush of everyday life. Nordic boasts elegant clean lines, minimalist chic, and natural light. And by inserting hints of warmth, colour, and wood, you can achieve that modern Nordic kitchen of your own. 
If you want to transform your boring kitchen into a happy Scandinavian style, then make sure you follow our tips below. 
1. White Colour Palette
Of course, if you want a Nordic interior, you need to stick to a white colour palette. You can never go wrong with a white kitchen, especially if you're creating your own version of a Nordic kitchen. Using a cool light colour palette for Scandinavian kitchen interiors creates a feeling of tranquillity and a sense of purity. 
If you have a small kitchen, then Nordic style is ideal for making the most of your space. It's also important that you add a touch of warmth to the space, you may match the white with copper and wooden accents. For a small kitchen, you want to use every inch of your space with open shelves for daily items above your sink. 
2. Generous Lighting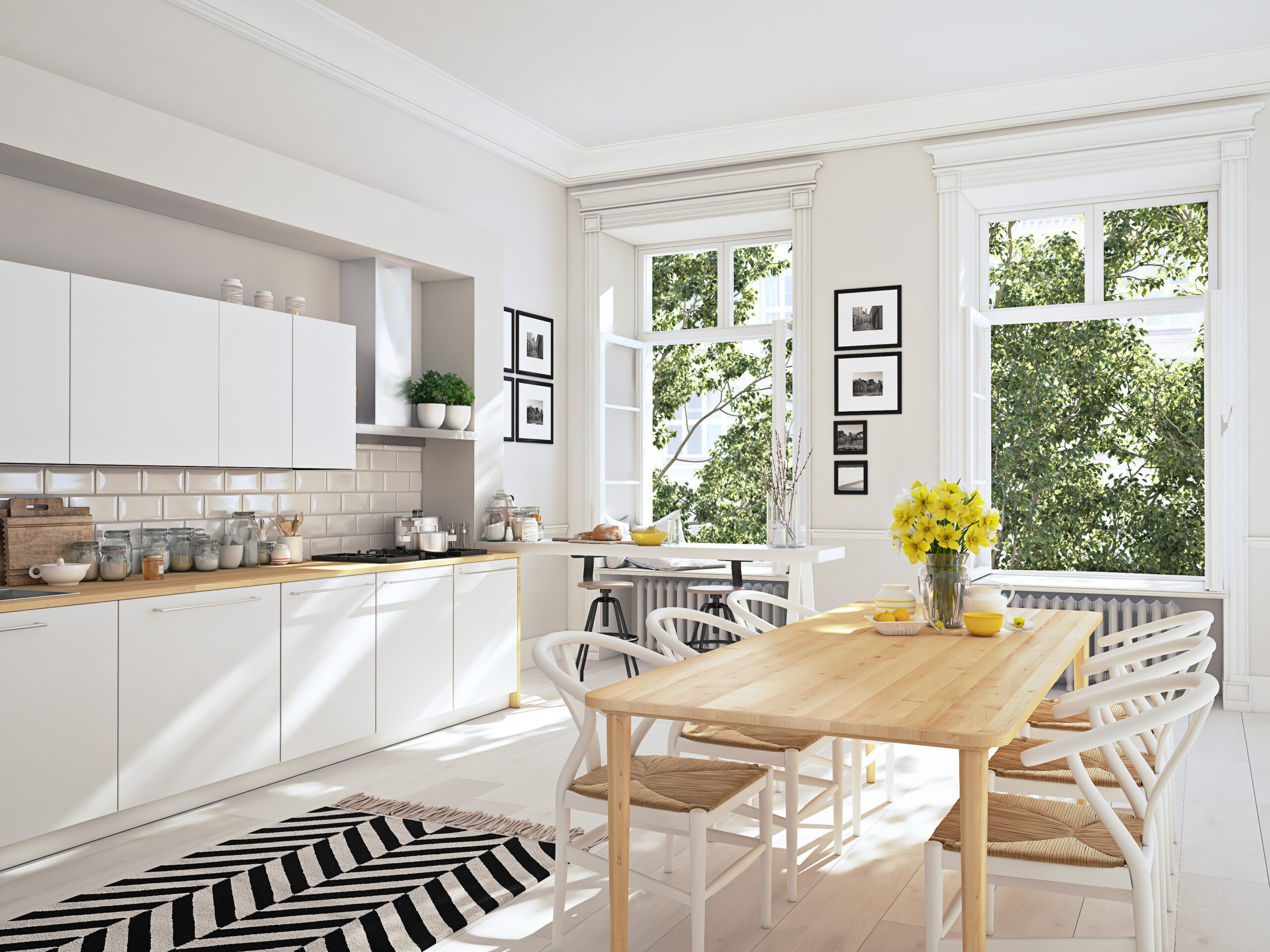 To create the right Nordic ambience, lighting is an essential part of it. If your kitchen has huge windows, then use them to your advantage by getting a lot of natural light from the outside. It's better to leave the windows unadorned, or you can add a plain roller-blind. 
However, if your kitchen doesn't receive enough light, you can try hanging metallic pendant lights above your eating area for a contemporary open of light. Installing the proper type of light fixtures can make a big difference to a space. If you want to be a bit extra, you can also add a few under-cabinet lights too. 
3. Dining Table or Breakfast Bar Space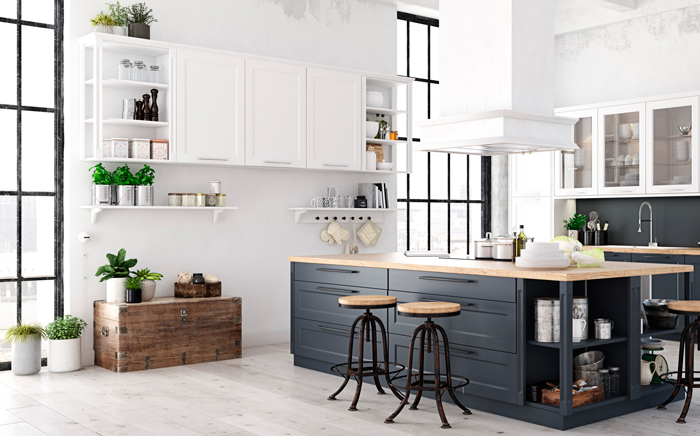 In Scandinavian culture, meeting together for meals as a family is very important. You can add a space for a dining table or breakfast bar to make sure that the kitchen is the heart of the home. Having a dining area also provides warmth through texture and colour. 
You may choose a wooden table then match it with mink dining chairs, add soft furnishings and fresh flowers for depth. 
4. Statement Flooring With White Walls 
Having a Scandinavian interior doesn't mean that you can't enjoy a little fun with the design. You may actually use playful geometric kitchen flooring to spice up the space a bit! You can opt for a zigzag pattern that includes sleek clean lines highlighting the Scandi style partners – white and wood. So, if you want some personality in your kitchen, this is the way to go. 
Keep in mind that although Nordic may always be neutral and minimal, you should not forget to look for a way to imprint your personality on the space. 
5. Pastel Hues
Yes, a pop of colour is allowed in a Nordic space! And we love pastel hues in a Scandi kitchen. These pastel colours beautifully complement the pale wood of Scandinavian kitchen design, accompanying in an airy springtime illumination all year round. 
We suggest yellow or pale aqua for inspiration, especially for the cabinets or cabinet doors, and backsplash tiles, in line with the clean, soft, streamlined style of Nordic chic.
6. Simplicity and Minimalist 
For a Nordic design, these two characteristics are very essential. Simplicity is the key to the design. To help you achieve it, clean and organize your space. Having cluttered worktops will only steal the attention away from the clean lines and trendy accents that make up the Scandinavian style. 
Make sure everything in the kitchen belongs to a certain space, install functional cabinets and chic countertop containers to give yourself more storage space for the messy stuff. 
It may also be enticing to accessorize your space when redesigning it. However, for an actual Nordic look, less is always more. Stay away from ornate cabinet handles and bold light fixtures. Instead, allow natural textures of wood, natural stones, and metal that can easily do their jobs without having to try too hard. 
7. Hygge Lifestyle 
Hygge is a Danish phenomenon that focuses on creating a joyful life and a sense of well-being. You can have this hygge in your kitchen by creating a sense of calm by investing in rosy metal cookware, rustic accents, natural wooden flooring, etc. 
You can throw a little patch of green here and there which works amazing wonders too. You may also have open shelves installed where you can display your plants. These small hints of cosiness can transform your practical space into a warm, rustic hub. 
8. Functionality 
Lastly, Nordic design maintains functionality at its heart, allowing you to clean, cook, and entertain with efficiency and ease. For you to keep your kitchen experience Nordic-simple, utilize sleek-innovative appliances that make your daily life a bit easier.